This is what I took out of the M&S performance update today:
13 weeks to end of March: Sales dropped 0.7% -

I contributed to the drop. I shop a lot less in M&S - love the food offers but can't stand the queues.
Apparently could have sold 300,000 knitwear items rather than 100,000 -

ran out of stock!
Jubilee/Union Jack bunting selling well -

God save the Queen!
1% rise in food sales (

very tempting offers

), 2.8% drop in general merchandise
International sales drop of 2%; strong in India, China, the Gulf and flagship Paris; weak in Republic of Ireland and Greece (

not surprising

); plans to open 3% more UK shop space and 20% more international shop space
CEO Marc Bolland: "While the short-term trading outlook continues to be challenging, we are focused on investing in line with our plan and are making strong progress against our goal of becoming an international, multi-channel retailer."
The results are not disastrous, just an illustration of the continuing challenges in retailing generally and with the once-guaranteed behemoths specifically. Tesco tomorrow will be an interesting case study too.
For customers, in my opinion and experience, M&S needs to focus on the following:
Slicker, quicker checkout service ("Sorry to keep you waiting" - doesn't cut it)
Maintaining attractive and popular food offers/deals - big plus.
More "door busting" non-food promotions - learn from the M&S food team, maybe.
Less fancy advertising, perhaps. (Straw poll amongst a couple of dozen people suggests that celebrity involvement does not entice people to buy or to buy more.)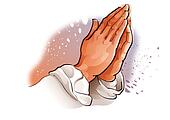 And now a prayer:
"Oh, blessed St Michael,
we implore,
give us better offers and service
in each M&S store,
we join our hands
and we hope and pray
that you'll deliver your plans
before Judgement Day."