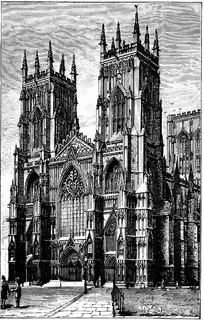 I am just back from a couple of days in York, a city that has much to offer in terms if heritage, architecture, olde worlde charm in parts and a variety of catering and retailing attractions. The thought of visiting York, though, seems to outweigh actually being there because, like most towns and cities, it is under considerable pressure to survive commercially and it shows. Vacant premises, big discount sales, offers, promotions and gimmicks all over the place. The big name retailers are there and local shops add distinctiveness and interest for the window shopper and visitor wishing to buy something a bit different from the norm. A McArthur Glen outlet on the edge of York pulls people away, not least because of free parking, and, if there wasn't enough pressure on the city's retailers, plans are under review for a second major out of town centre to be opened featuring some of the biggest names in the industry, it would seem.
A local report is here (cut and paste to browser if it does not open easily)
http://www.yorkpress.co.uk/news/9526156.Out_of_town_complex_critic_says_he_wants_what___s_right_for_York/
It gives a flavour of what is in the air.
Now, post-Portas, it will be interesting to see how this decision falls. In theory, the second retail outlet should not be approved. But where is the real power and influence to support York city centre, local or national? If plans are approved, there will be much oeuf sur le visage, methinks.