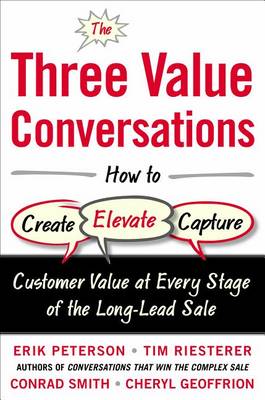 THE THREE VALUE CONVERSATIONS
How to Create, Elevate, Capture
Customer Value at Every Stage of the Long-Lead Sale
Erik Peterson, Tim Riesterer, Conrad Smith & Cheryl Geoffrion
McGraw Hill Education 2015
"Salespeople need to understand that, at their core, they are storytellers. Salespeople who think of themselves as salespeople will fail."
I have had a long career in business management and in the course of my work I have encountered dozens of salespeople who have been robotic in their approach to selling and predictable in their lack of understanding of my role, my business and my needs. In short, they did not do any homework to prepare for discussions and they often allowed their ego-engines to move to overdrive as they dominated meetings.

As a potential customer, I lost interest very quickly, had to stifle more than a few yawns and sometimes cut things short just to ease my pain. I can remember a few exceptions but most salespeople in my experience presented rather than conversed.

As you might have gathered, not much business was agreed with those lacklustre sellers.
'The Three Value Conversations" book addresses this boring, mechanical and pointless approach to engaging customers and doing good business by promoting and encouraging customer conversations. Most of us love stories, be it gossip, anecdote, fable or whatever, especially if the storytellers are confident, knowledgeable and memorable through what they say and how they say it.

If stories are told with natural ease and are made relevant to the listener, then that is a great package with which to develop a meaningful relationship.
The book talks of salespeople preparing themselves with the right message, the right tools and the right skills.

In a sales conversation, there is no room for blether or baloney. We are taught about creating value – how salespeople can convince buyers of products and services that their solutions are different from and better than those of competitors. We learn about elevating value and how salespeople can justify the investment in products and services as financially viable and lucrative options.

We understand how salespeople can capture value, the so-called maximisation conversation, not by blatantly negotiating to seal the deal but by convincing the buyer that what is being sold is the only sensible option practically, operationally and economically. Selling should not be about talking at buyers. It should be about offering insight rather than heavy-handed pitching. This modern world is not about ticking boxes and hoping for the best. Sophisticated selling techniques learned, mastered and delivered with personality, professionalism and determination are the new ingredients for success.
The authors have come at the subject from research done in neuroscience, social psychology and behavioural economics but don't let that put you off. Yes, this is a serious book written by serious people about a serious subject. But it is written in an accessible way. It is not a textbook to frighten people with high falutin' terminology. It is a very readable book to be embraced and absorbed by anyone serious enough about being the best at selling.
There is a downside to all of this but it has nothing to do with the book. The downside is that a lot of salespeople and their managers will not read it because they will think they know better. "The Three Value Conversations" is too good an opportunity to miss. Selling solutions are served on a plate and all it takes is the price of the book and a hunger for a different, more adept approach to how salespeople think and how selling is done.
This is a book that can help transform business thinking and I urge everyone from the enthusiast to the sceptic to take the time to refresh how they think and do the selling job.